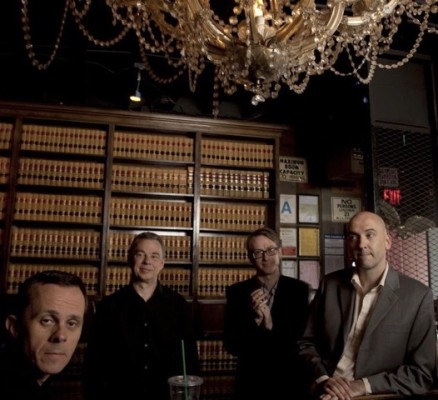 カジヒデキさんと曽我部恵一さんが、その音楽的センスを信頼する方に選曲を依頼して、その曲を1時間お送りするTBSラジオ「オーディナリーミュージック」(日&月 早朝4:00〜)。今回、曽我部さんが選曲をお願いしたのは、2月にサニーデイ・サービスとカップリングツアーを行なうスコットランドのバンド「Trashcan Sinatras(トラッシュキャン・シナトラズ)」の、ギターのジョンとドラムのスティーヴンのダグラス兄弟でした。今回、トラキャンのメンバー4人それぞれが10曲ずつ、1曲1曲にコメントを添えて選んでくれました。オンエアで紹介できなかった分も含めて、ジョンとスティーヴンの10曲は以下のとおりです。
(オンエア曲はこちら)
---
選曲:John Douglas
10 morning songs (in no particular order)
1. The Ride – Joan As Policewoman
A slow start to the day. Very mellow. This would be my Sunday morning song.. late rising.. no big plans for the day. Her voice is soft and sensual.. she glides so smoothly through the beautiful melody so much that the lyric becomes irrelevant (very unusual for me, i am always drawn to the lyric in song so it's always a welcome relief when a melody and a singer combine to hypnotise my logical mind)
2. Groovin'  – The Young Rascals
When the day ahead is filled with exciting plans.. maybe travel or a birthday.. this song is ideal.. It lifts the spirit and makes my body move to the groove.. It feels carefree and reminds me of times when my day would be filled with walking to the park in Kilmarnock in the rare Scottish sunshine with my friends to sit around and play guitar, enjoy cool drinks and talk of our hopes and dreams..
3. Hejira – Joni Mitchell
Sometimes, as the dawn breaks, I become a time traveller and recall the wonderful times I have shared on this earth. I recall waking up in the rear of a Tourbus as we travelled through the desert in Arizona, gazing at scenery that I had only previously seen in Western Cowboy movies as a child. Here i was in my late 20s fully aware that i was travelling in a dream that had become reality.. I was in my favourite band, touring America playing songs we had written our selves, our way. This song was playing that morning and it always takes me back to that feeling.
4. Angels Of Ashes – Scott Walker
All the beauty that could appear in any day is hinted at in this song. If I am lucky enough to hear this first thing in the day, then the day is made.. everyone I meet is a friend.. everything I do is the right thing. Scott Walkers voice has been my constant companion my whole life. When I was a kid I heard "First Love Never Dies" on the morning radio before i headed out to school and since then his voice has brought me comfort when i needed it and joy when joy was scarce. The Angels Of Ashes is him at his best.
5. Marchin' To The City – Bob Dylan
Whenever I wake and I feel like I've lived forever and I have earned my self respect and everyone in the world is my equal and I've got scars and bruises from living against the grain and I've been proved right all along and I've had my heart broken and kicked around and i still stand proud.. this song is what i listen too.. the voice is ragged and proud and it stands tall .. an old voice, wrinkled and wise… this song gives my old bones a swagger that i can take into the day and be ready to face anything.
6. Bike – Pink Floyd
This song reminds me that life is unpredictable, fun, chaotic and should be embraced with no fear, like children do. It evokes childhood and to begin the day as a child seems wise. Look at everything as an innocent, see things as playthings, rules dont apply, What's important is colour, noise and laughter.
7. Identikit – Radiohead
As the day breaks and this plays, I become interested in rhythm and repetition and mystery. This makes we wants to create.. bring something new into the world. It sound both recent and ancient .. it sounds like nursery rhyme child song mixed with digital technology.. its both surprising and familiar.
8. Finale (Once Upon A Time In The West) – Ennio Morricone
This piece of music makes me feel like a listener.. i forget any knowledge of making music… all my guitars and songs and recordings and concerts are all gone .. i have no memory of music .. There is only this wondrous thing that fills my heart and i don't know how it was created.. it is magnificent.
9. Fair Play – Van Morrison
To begin the day with this song of love is hard to beat. The band are playing loose.. taking a very 'jazz' approach.. rising and falling as the singer leads the way with his magical words.. talking of places and books and her hair.. her beautiful hair.. after hearing this in the morning I would want to take my girl in the car and drive up north to Argyll to spend a day wandering the hills and then watch the sunset over the western isles. This song is a perfect day.
10. Remote Control – The Clash
This is bittersweet punk rock.. I am a child of punk rock. I remember a dull, black & white world of no fun, no future just drudgery and boredom.. then these lovely boys came along and opened up my eyes to a world of art and love and freedom. They made me think that I could change my own world, I could be creative. If I hear this in the morning it makes me feel powerful and that great art can be made very simply. Anything can happen in the next 24 hours. What will i do with the day ?
(My favourite overall is Angels Of Ashes – Scott Walker)
選曲:Stephen Douglas
1. Two Ragged Soldiers – Scott Walker
A lush, contemplative song. It has a lovely solitary mood that fits with the quiet of morning beautifully.
2. Coney Island – Van Morrison
This song is so dream -like and sensory. It describes a brief, beautiful moment vividly recalled from memory. The orchestra accentuates this mood and creates a peaceful, uplifting song to hear in the morning.
3. Across The Universe – Laibach
The choir singing on this reminds me of the congregation singing at Church when I was young. Mass was always held in the morning so I always associate this style of singing with early mornings. This beautiful version has a dreamy, slow motion mood to it which also reminds me of waking up around dawn.
4. The Lonely Guy – Julian Cope
A song for gazing out at a peaceful dawn after coming home late from a party… or for when camping in the countryside and looking at vast, beautiful nature as the sun rises… It is perfect for contemplative thinking.
5. West Virginia Summers Child – Bob Lind
This song makes me think of Scottish winter mornings…of waking up when it's still dark and getting dressed before going out on a chilly morning…still dark but with the blood red sun just beginning to appear over the horizon.
It has a real 'winters morning' vibe that I love.
6. Feel Like Makin' Love – Roberta Flack
This is a lovely warm, soft sound to gently nudge you awake on a drowsy winters morning…before you have to go outside and face the noise of everyday life. Or it is perfect if the morning weather is horrible outside and you can just stay cosy in bed.
7. Mirrors – Sally Oldfield
A gorgeous melody with a bright, pure sound. The twinkling, chiming sounds make me think of a fresh new morning.
8. On The Sunny Side Of The Street – Willie Nelson
This great song has a quiet and gentle shuffle that gets me going in the morning. While the world is waking up I hum it to myself while walking down the street.
9. Greetings To The New Brunette – Billy Bragg
This song just bursts with optimism. It has a lovely bright, youthful sound and it gives me the feeling of splashing my face with cold water in the morning; It make me feel so alive! This song is great to play in the morning as it is so energetic and joyful sounding and makes me optimistic for the brand new day.
10. Angels Of Ashes – Scott Walker
I love the way this song is repetitive but is also constantly unravelling and renewing itself. That's why this song is my favourite song to listen to early in the morning; It's sense of renewal reminds me of all the possibilities in a new day beginning. It gives me a clear optimism for the day ahead.
If you listen to it on earphones as you walk out in the morning the world will look more 'noble' somehow.
---
<Trashcan Sinatras & Sunny Day Service Tour 2017>

2月 21日 (火)@東京 渋谷 CLUB QUATTRO
open 18:00 / start 19:00
info SMASH 03-3444-6751 http://smash-jpn.com
2月 24日 (金)@大阪 梅田 CLUB QUATTRO
open 18:00 / start 19:00
info SMASH WEST 06-6535-5569 http://smash-jpn.com
<Trashcan Sinatras 来日に寄せて>
友達のサニーデイと2月のライブをとてもワクワクしているよ。
昔からの友人との再会と彼らの美メロを聴くことはとっても楽しみ。
ただ、ふと思ったのは、もしかして彼らはすっかり変わっているかもしれない…。
アゴひげを長くはやしているとか?筋肉むきむきで体中にタトゥーいれてたりとか?
もしかしてヘビメタ・バンドになっているとか。。。フライングVギターやダブルベース・ドラム?うーん。。。どうなんだろう。。。でも、もし本当にそう変わっていたとしても、彼らが僕らの永遠の友であることは変わることはない。
サニーデイ・サービスは何年も前にスコットランドまできて、僕らは一緒に美しい音楽をつくった。音楽にはポジティブな力があるという、美しくもシンプルなことを思い出させてくれた。また彼らと同じステージでライブをすることをうれしく、光栄に思います。
ジョン
大事な仲間のサニーデイ・サービスのケイイチ、タカシ、ハルと2月に会うのがとにかく楽しみ。最高なこの3人とはずっと前から知っていて、一緒にレコーディングしたりツアーしたりと、ごきげんな時間をすごした思い出があるんだ。
彼らは個性的なサウンドのもったバンドで、とってもポップなメロディーだったと思えば、エッジのきいたむき出しのロックで驚かされたり。すごくクールなんだ!まだわからないけど、もしかしたら一緒のステージでまたジャムしたりするかも? だといいな。。。。東京も大阪もみんなぜひチェックしてね!
最後にケイイチ、ラジオでキュレーターしてるなんてすごいね。しかも僕の好きな朝に。朝という時間はたくさんの人にとって大事な時間だよね。今回は僕が選んだ曲をかけてくれてありがとう。とても光栄だよ。では2月に!
スティーブン
---
番組は、radikoのタイムフリー機能で放送から1週間はお好きな時に聴くことができます!朝ごはんを食べながら・本を読みながら・ドライブのお供に・しっかりとスピーカーに向き合って、それぞれの日常でお楽しみください。
曽我部さんの次回担当・2月12日(日)は、三輪二郎さんの選曲をお送りします。そしてカジさんの担当の13日(月)は、番組の片桐義宏プロデューサーの選曲です(なお、この日は設備のメインテナンスのためTBSラジオでの放送はお休みとなります。どうぞご了承ください)。そして今後のラインナップですが、2月19日(日)はプレイグスの深沼元昭さん、20日(月)はデザイナーでイラストレーターの小田島等さん、26日(日)はザ・コレクターズの加藤ひさしさん、27日(月)は高橋幸宏さんの選曲でお送りします。
※今後の予定、修正しました。