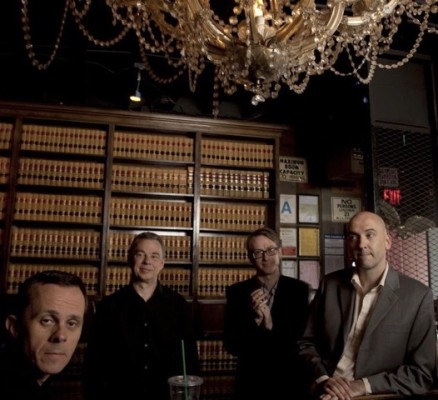 カジヒデキさんと曽我部恵一さんが、その音楽的センスを信頼する方に選曲を依頼して、その曲を1時間お送りするTBSラジオ「オーディナリーミュージック」(日&月 早朝4:00〜)。今回、曽我部さんが選曲をお願いしたのは、2月にサニーデイ・サービスとカップリングツアーを行なうスコットランドのバンド「Trashcan Sinatras(トラッシュキャン・シナトラズ)」の、ヴォーカルのフランシス・リーダーさんとギターのポール・リヴィングストンさんでした。今回、トラキャンのメンバー4人それぞれが10曲ずつ、1曲1曲にコメントを添えて選んでくれました。オンエアで紹介できなかった分も含めて、フランクとポールの10曲は以下のとおりです。
(オンエア曲はこちら)
---
選曲:Francis Reader
If I'm playing music at dawn before going to bed:
1 – Fleetwood Mac – Warm Ways
A gentle, slumberous lullaby sung by an insomniac to their sleeping love. This song seems to float into your ears in mists of aaaahs and oooohs. Oh, to be in Fleetwood Mac in 1974, just for a day or so.
2 – Dusty Springfield – Morning, Please Don't Come
Again, an insomniac singer sings while their lover sleeps. I'm picturing myself listening to these last songs of the night on my own, the rest of the house having gone to bed. I was always that person who desperately wanted the night to never end when I was younger. I still have my moments.
3 – The Cryin' Shames – Please Stay
This song reminds me of new year parties growing up in Glasgow. Towards the end of the night, the records would be turned off and all the adults would take it in turns to sing songs – sad songs, usually. One new year in the mid-1970s, my dad's youngest sister, who had been living in South Africa with her husband and family for a few years, came back to Glasgow to visit for the holidays. Late in the night at the new year party, her 4 brothers sat at her feet and sang this song to her. She and my uncle decided there and then that they would pack up their life in South Africa and return to live in Scotland.
4 – The Concretes – This One's For You
This mournful song brings my friend Jason to mind. We met while we were both working at the Post Office, and we bonded over a shared love of music – especially The Concretes' first album, of which this is the final track. He died in a kayaking accident at the beginning of this year, and I still don't feel able to process it, but this song seems to bring me closer to him, and maybe that brings me closer to coming to terms with what happened.
5 – The Sensational Alex Harvey Band – Tomorrow Belongs To Me
The empty glasses and bottles are collected, stacked up in the kitchen for washing tomorrow afternoon, the cradle is calling. The King of Scotland himself, Alex Harvey, is the only one with the authority to bring such a long night to a close.
And if I'm playing music at the dawn after rising early:
1 – Julia Holter – Feel You
My favourite song of 2016. Julia Holter's pure, clear and artless voice weaves itself so beautifully around the puzzling phrasing. The poetic lines, the dotted, peppery percussion and squally string arrangement bring to mind blustery thunderstorms at dawn in a distant, strange city. A most romantic song.
2 – Judee Sill – The Kiss
The first time I saw Judee Sill was in a clip from an old British TV show. She sat alone at the piano, looking bookish – and maybe a bit stern – and played this beautiful song. I fell in love with it before she'd got through the first 30 seconds. Her life was short and doesn't seem to have been a happy one, and of course, you can't help stuff like that colouring the way you hear the music. She was signed to Asylum along with Joni Mitchell, the Eagles, Linda Ronstadt – artists who appeared to be at ease with the times in which they lived – who seemed to have what the public wanted to hear – while Judee and her songs had an awkwardness about them which was very attractive, but also seemed to be pushing you away, too. I feel an affinity with her awkwardness.
3 – Joni Mitchell – For The Roses
There's no-one more nourishing to listen to at the start of a new day than Joni. Her songs seem to lay down a challenge for you to be open, strong, brilliant and impossibly principled every second of the coming day. For The Roses is one of her most touching songs, despite being about the music business – a subject that doesn't usually make for much emotional clout. The song is said to be partly about James Taylor, but it's mostly about Joni herself, I think. She's embittered by his commercial success and his loss of purity. She feels let down by his ambition and is disdainful of the mad dash for fame, but she knows she's just the same, and she's as troubled by her own cynicism as she is by his.
4 – Linda Perhacs – Parallelograms
Why is this song so moving? All the seductive, psychedelic confusion of the "Quadrahedral, Tetrahedral…" stuff is like geometrical hypnosis. The aural equivalent of an optical illusion.
5 – Flo Morrissey/Matthew E White – Look At What The Light Did Now
I just heard this for the first time this week. I love Flo Morrissey's voice and am looking forward to delving further. I think Toots And The Maytals could do a great reggae version of this.
If I had to pick a favourite out of these 10 songs, I think I'd take the Julia Holter one – maybe because it's relatively new to me. I'm still playing it over and over.
---
選曲:Paul Livingston
The first five songs are for the people who are coming home late, and the next five are for the people getting up early.

Donovan – Hurdy Gurdy Man
(Witchy music that transcends mere notes and chords. I do like evil music)
Radiohead – Scatterbrain
(Radiohead are my favorite band. They make everyone else sound like they're not really trying)
David Bowie – Blackstar
(This blows me away. Although I do wish Robert Fripp had played on the album. He's my favorite guitarist)
Talk Talk – I Believe in You
(The opposite of witchy. It's so difficult to make uplifting music. This is what Christian rock should sound like, instead of being bland)
The Police – Invisible Sun
(Sinister vibe and massive sound. Emotional drummers are so rare. Stewart Copeland is one. Bill Buford is another)
Adam and the Ants – Kings of the Wild Frontier
(What did these guys think they were doing? And how did they know it would work? A rally cry that makes you want to take part. In what, I have no idea. But I'm in!)
Rainbow – Since You Been Gone
(Songs from one's youth have an extra magic in them. They conjure a time when you had no concept of how music was made, you just knew it was powerful and made you feel good.)
Black Sabbath – Neon Knights
(Yeah!!! Wake up and do stuff!)
Radiohead – Mixymatosis
Iron Maiden – Run to the Hills
More metal. Metal is morning music. I do housework while listening
---
<Trashcan Sinatras & Sunny Day Service Tour 2017>

2月 21日 (火)@東京 渋谷 CLUB QUATTRO
open 18:00 / start 19:00
info SMASH 03-3444-6751 http://smash-jpn.com
2月 24日 (金)@大阪 梅田 CLUB QUATTRO
open 18:00 / start 19:00
info SMASH WEST 06-6535-5569 http://smash-jpn.com
<Trashcan Sinatras 来日に寄せて>
僕はもちろん、メンバー全員が、日本でサニーデイ・サービスと2月のライブで会うのがとても待ちどおしい。
17年くらい前、曽我部氏とタカシ、ハルが、キルマノックにある僕らのスタジオの階段をのぼってきた雨の日曜日の夕方、僕らは近所のハンティング・ロッジ・パブで長い長い時間、お互いを理解するため、音楽について、ビートルズについて、ハーパーズ・ビザールについて話した。そしてシャビーロードに戻り、ランディ・ニューマンの"スノウ"を録音した。深い、深い時間まで。忘れられない記憶に残る夜明けだった。
だから、日本にきて、サニーデイ・サービスと会うのはとてもワクワクしている。彼らのライブを聴き、僕らのライブを演奏し、古い曲や新しい曲をサニーデイのファンと僕らのファンに届けるのを。きっととても素晴らしい時間だよ。でもみんなの寝る時間が遅くならないようにするね。
Lots of Love
フランク

90年代後半のトラッシュキャン・シナトラズはまったく機能してない状態で、どうやってもその状態から抜け出せず途方にくれていた。でもある日SDSが僕らのスタジオ、シャビーロードを訪ねてくれたことで、音楽をつくるのは嶮しい山を登ることではなく、実はとっても楽しいことだと思い出させてくれた。言葉は通じなくても音楽を通じて話せたし、プレッシャーはなく、とにかく開放されて楽しかった。
だから、SDSとは深い絆があり、今回のライブは2つのバンドが同じステージ立つということよりも、とっても深くて意味があるんだ。
早く親友たちと再会したいよ!
ポール


---
番組は、radikoのタイムフリー機能で放送から1週間はお好きな時に聴くことができます!朝ごはんを食べながら・本を読みながら・ドライブのお供に・しっかりとスピーカーに向き合って、それぞれの日常でお楽しみください。
曽我部さんの次回担当・2月6日(月)は、トラッシュキャン・シナトラズ選曲の第2回、ジョンとスティーヴンのダグラス兄弟の選曲をお送りします。そしてカジさんの担当、明日・1月30日(月)の選曲は「ラーナーズ」の松田"CHABE"岳二さん、2月5日(日)は「オリジナル・ラヴ」の田島貴男さんです。